Portfolio
Consumer UX Research
---
Samsung U.S. Streaming Music Consumption Patterns & Expectations | 2014 - 2016
SAMSUNG MILK MUSIC
Sole UX researcher investigating music listener's fundamental beliefs and resulting behaviors to deliver useful, usable, and delightful music experiences starting with smartphones. Close alignment with product management and UX design teams. Ensuring excellent OOBE/FTUE + forever happiness.
♦
Literature reviews
​
♦
Evangelized the uses of Lookback and dScout
​
♦
Swapped findings with a Samsung innovation team
Generative research
mapped the landscape of entertainment consumption
♦
The basis for concept frameworks for service and product vision
♦
Semi-structured field interviews, diaries with media, expert reviews
♦
Competitive testing using usertesting.com and in-person
Hypotheses examined in
Formative research
♦
Refinement of frameworks defining a UX-driven design strategy
♦
1:1 live prototype sessions with listeners and non-listeners verging on participatory design
♦
Sessions audio recorded and with Lookback for touch/facial expression data
​Design refinement in
Evaluative research
​
♦
Agile iterative testing (modified RITE) for beta and alpha versions
​
♦
usertesting.com and in-lab testing. Statistical metrics time-on-task, discovery times, expectations
​
♦
Program and design validations and recommendations to surpass user expectations
---
Trend Micro Wireless networks in U.S. Homes | 2008​
Trend Micro Laptop security behaviors among U.S. consumers | 2006
Generative field research in US among advanced laptop owners. Interviews, observations, conceptual testing.
Findings led to new design principles and a revamping of the consumer security product line experience.
​YAHOO! Travel web site
Fieldwork in San Francisco investigating planning and on-location
attitudes and expectations
among tourists.
✰
Observation and ad hoc interviews
with the lead designer and program manager.
✰
Follow-on
depth interviews of enthusiastic travelers in their homes,
teamed with usability researchers and designers.
Results
Design recommendations centered on travelers' engagement moments and integration of information-seeking with related travel activities.
---
Microsoft PlayTable > Surface > PixelSense
Samsung version of Surface 2011. Click the photo!
Designed and conducted the first multi-phase consumer ethnography to investigate US home adoption of a NUI entertainment device at Microsoft.
Data collection methods included family and 1:1 interviews, semantic testing, user's mapping their home activity patterns, home tour interviews, lab product demo streamed to the team, and dense foam prototype evaluation.
Cross-functional team field training prior to in-home sessions, periodic findings update presentations, video and audio archiving and editing, interview transcription and coding.
​Results
​Led to a business model and product pivot - a win for generative research
Generated a long list of software and hardware development requirements and use cases
---
---
Residential Use Research
Problem

Habitat for Humanity's two-step process for evaluating and selecting candidates for new households was too subjective. The process itself was disruptive for the organization and lead to decisions fraught with policy, legal, financial, and material issues.
Solution
I proposed and ran a program for gathering extensive and comparable qualitative data that was documented and referenced during the household selection process. It was, in essence, ethnographic semi-structured field sessions, audio- recorded and transcribed.
Results
This process eliminated the practice of internal subjective advocacy.
Findings led the organization to sharpen or establish stronger policies.
This program is still used by the Bay Area Habitat for Humanity organization.
---
---
Enterprise Research
Autodesk Enterprise Online Purchase Processes 2013-2014

Formal and informal customer interviews to overhaul the program purchase platform. Formative and validation remote and lab usability testing. Hired a vendor to kick-off the baseline/benchmark series for cloud platform development.

Trend Micro Enterprise Mobile Security Management with Employee-owned Consumer Smartphones | 2010

* US and Canada IT management priorities and issues
* Interviews + participatory design among recruited US enterprise employees
* Analyst and corporate literature review
* Results Description of current and future political dynamics between employers and their employees using their own phones for work. Frameworks of adoption and implementation drivers.
Trend Micro Core Tech <> Product Development Research | 2010
Problem:
streamline product development and reduce the development cycle. Focus on
manufacturing, retail, and healthcare
for tight compliance and progressive IT security environments. Engineering stakeholders in the US, Europe and Asia.
BJC St. Louis
: In-depth case study of IT security measures in new hospitals, e.g. low-effort two-step authentication using gesture interfaces,
consumerization
issues, issues with
EMR
,
HIPAA compliance
, political interests between IT, Marketing, and the C-level.
Data collection via phone interviews, onsite observation and interviews, and diaries.
Results
Insights about function delivery experiences; the proper scope of future technologies; optimal development practices and flexibilities.
Trend Micro Enterprise Mobility IT Management | 2008
Problem: Mobility false starts and successes in Healthcare and Financial verticals.
Methodologies: Onsite observation, customer expert interviews
Deliverables: Visio diagramming of technical, economic, organizational, and government compliance elements.
Results: Forecast corporate mobile device needs and preferences. Set direction and priorities for program management.
Microsoft Qualitative Survey Data Analysis
Completed manual spreadsheet analysis of 30,000 open-ended responses from an internal Microsoft employee survey in three weeks. Reported top findings and provided supporting evidence to HR stakeholders. Qualitative codes reflected precisely defined, organically meaningful, and actionable concepts beyond a superficial level, applicable to any Microsoft unit function.
Microsoft Research Diary Study of Multi-tasking
In a standard diary study of office multi-tasking run by my mentor Mary Czerwinski at Microsoft Research, my qualitative coding surfaced a certain behavior: especially after lunch, workers tend to procrastinate returning to work that involved multiple open windows e.g. documents, web sites, notes. Eventually workers open and properly arrange the windows to return to get back to work. There were only four instances in a two week period, but that was enough to kick off an
ACM SIG-CHI paper
, the first version of a new feature in Vista, and eventually the current Windows 10 taskbar feature called Task View.
---
Social Media Management
Trend Online Community Manager
✰
Trend Community was on the Lithium online community platform (sunsetted 2015)
✰
Ran the platform vendor review, recommended the vendor, and managed the vendor relationship
✰
Migrated a private Enterprise community to within the public Consumer and Enterprise community

✰
Cross-company coordination of
support, marketing, and product development
initiatives on the Community
✰
Alignment with social media function in Marketing
✰
Structural, feature, and graphical planning and implementation, content administration
✰
Initiated Spanish and Portuguese language areas
I wrote the tag line
"Be smart. Be safe. Team up for better protection."
---
Favorite theories
Evolution
Goes without saying.
Bloom's Taxonomy of Learning
​The world is jammed with information of all kinds. We constantly learn and confirm knowledge, using all our senses.
​
Occam's Razor
The Principle of Plurality: plurality should not be suggested without necessity
The Principle of Parsimony: it is pointless to do with more what can be done with less
In short: the simplest explanation and solution is usually correct. I would add: that conclusion may not be self-evident.
​
Cultural Ecology
​Anthropology theory that holds that cultures are influenced by their environments, such as values around what is considered a resource like food and what uses to make tools and clothes. Conversely, in situ human cultures shape their environments. I apply this lens to contemporary societies, as opportunity arises.
Robotics Theory
​As high technologies becomes ever more embedded into our daily lives, we socialize them to understand personal, cultural, and social implications. Robotics engineers have studied what makes human adoption more likely since the earliest robots. And so I read Lucy Suchman.
Powered by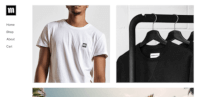 Create your own unique website with customizable templates.