CASE STUDY HABITAT FOR HUMANITY
Background
The Redwood City, California Habitat for Humanity office had approved the financial applications for eight households. Only five homes at a new site were available. In the usual process, just as mortgage lenders do, the households with the strongest financial circumstances would be awarded the five available spots.
However, Habitat for Humanity has an interest in the well-being of the homeowner communities. Households that are less active or even negligent create practical and legal problems.
I approached Habitat to revamp the candidate evaluation process. Our objective: to explore how policies for accepting household candidates should be modified to improve the experience of Habitat homeowners and ensure "successful" ramping into market home ownership. The first set of household interviews were, in effect, the pilot program.
Past Issues
In the old process, a few Habitat board members and staff interviewed household members at their homes. Each person in the field team took notes in the margins of their interview guides. Using these notes, all board members selected families that were most deserving.
These selection sessions, however, frequently became contentious as individuals would champion their favorite households using subjective criteria, producing lasting organizational schisms. Worse, in the end some households violated policies which required time, money, and effort to manage.
The Board did not have an objective, full description of candidate households. In short, they did not know these people as people. Business was being conducted from Habitat's perspective.
Protocol
A new field interview instrument was crafted to extract information the Board needed to assess whether a household would most likely be successful in the Habitat program. Habitat wanted households that exemplified their most successful households.
The individuals care about each other and take care of each other, express easy empathy. In particular, any children seem to be happy and active, and interact well with the adults. Special needs members and children are reasonably provisioned.
Households act as coherent units.
The adults participate usefully in their communities.
Households exude positive attitudes and have aspirations for 5 to 15 years into the future.
I conducted, processed, and presented materials from each household visit. After the interview, household members gave a tour of their homes, talking about how rooms are used and issues they dealt with.
Each 1 ½ hour session was also attended by 1-2 Habitat staff.
The sessions were digitally audio recorded and photographed. Recordings were transcribed verbatim and photos archived. This gave all Board members the household's actual comments & stories in their own words, which were quoted from and used in selection deliberation as evidence.
Data
Of the eight candidate households, two of the five most financially secure households were awarded a home in the first round. The other three benefitted from the new protocol.
A just-married couple from Southeast Asia were awarded a home largely due to the personal profile of the husband and how he interacted with his new (and just-arrived) wife. Though Habitat favors larger households, especially with children, this household showed remarkable integrity and potential in their communities.
Hispanic parents living in illegal and unhealthy housing with their two young sons were awarded a home for having demonstrated adaptive and resourceful behaviors while maintaining an optimistic and visionary outlook. Their volunteer work in their sons' school and religious institutions was impressive.

A household from Eastern Europe with an autistic teenager was awarded a home partly based on the mother's work assisting with managing the apartment complex.

She

was eventually paid for this work, which bolstered the family's income while establishing them as valued leaders in the community.
Findings
The selected households exhibited sociality and a demonstrated inclination to lubricate inclusiveness and community welfare. They also cared for their homes, humble though they might have been. The households that did not measure up to these standards provided the basis for policy refinements.
The strongest households were most active for their own benefit and for their communities. Decisions within these households were more conscious and deliberate, and sacrifices were made for delayed gratification. In other words, these households showed a sort of emotional intelligence that was shared among all members.
Results
The selection process became one of creating a community for the benefit of the individuals and households rather than rescuing needy families based on Board members' emotional perceptions.

The household selection process became more objective and mission-focused, which sharply reduced hard feelings in the organization.

The Habitat communities are more likely to fulfill the organization's mission to provide a first home for a household likely to later buy into the commercial housing market.

The Habitat homes are left in better condition for subsequent households. Properly maintained communities are favorably seen by municipalities, increasing the chances that more sites will be made available for such purposes.

This protocol was initiated at Redwood City Habitat for Humanity. It is now standard practice at San Francisco Bay Area Habitat for Humanity.
Powered by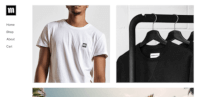 Create your own unique website with customizable templates.