This happens all the time. People ask me if I've run across some big thing that people sorely need. Never mind that if I knew that I'd already be rich.

I understand why they ask. I bill myself as an explorer in the magnetic field between people and everything else, usually high technology or delivery thereof. But the way it works is that I'm not walking around with a handful of packaged, unused ideas.

I've found plenty of friction in the flows of life. Just – we expect to do some crunching; some deeper diving, some sanity checking, some big-time brainstorming. Idea refinement. Even in this Age of Agility, R&D still happens in contexts for optimal results.

Here's a tip. Turn the entrepreneurial-idea machine off sometimes and just listen to people ramble about their lives. Listen to them talk about their pains and their aspirations. Listen for things to build on, including realms that seem outside your your usual domain. Collect them, trade them, write them down, draw them, sing them, cook them, sleep on them. If you don't you might not be serious about landing on good ideas. You never know where an idea comes from. There's time to focus on diving deeper later, and you'll be better acquainted with your idea for eventually describing it to investors.


Powered by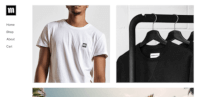 Create your own unique website with customizable templates.