Felicia Day is not alone. Many of us put ourselves through a personal review at New Year's. Before setting resolutions, an honest assessment of our advancements and obstacles helps us own who we are for better or for worse. Ms. Day published her enlightening

2010 ruminations

, which of course invites the rest of us to pile on even more.

Frankly, my learnings took longer than a year to collect or maybe understand fully. As it happens, a few of these are about handling adversity, times when a person pretty much must face one's warts and dig out inner strengths to overcome them. Some are far easier said than done – that takes practice after humilations and tiny triumphs.

1. Said before and I'll say it again because it is an undeniable truth:

know yourself, know what's good for you, rule yourself

. Self-possession is powerful and attractive. I've learned that it's immeasurably helpful to have someone around who will gently reflect back to you who you are – tell you what's unique about you and when you're full of it or full of yourself. These people are the angels of your life and should be cherished.

A corollary to this is to learn to

trust yourself

. Don't engage in woulda/shoulda/coulda. It's amazing how some make you try to doubt yourself for their own benefit. Better to gain confidence in your ability to read the world and the views and experiences of others, suss out how it all relates to you, apply your unique perspective to your unique situation and goals, and to the best of your ability, learn from what works and what doesn't and move on. Internal balance and balance with society is priceless.

2.

Rise above.

I thought this to myself when I was in high school, finding myself in the midst of pettiness. Stupid, worthless arguments and power plays can only be destructive. The gist of this advice is to keep your higher nature in view, to not let yourself get sucked into meaningless, neurotic, immature scrambles. But don't expect to change others by your noble model: that only happens in After School TV specials. Best to distance yourself from behavior that averts your focus from what strengthens you. Immerse yourself amongst respectful people.

3.

In good times, some of your character shows. In hard times, all your character shows.

I saw this proverb, attributed to some ancient Chinese man, in a Farmer's Almanac my first year out of college. I didn't rip it out because I was sure that I would run across it periodically. Alas, I have not only never run across it again, but I can't find it in a diligent search. It was better worded in the Almanac. In my darkest hours, remembering this quote has kept me from lashing out in revenge or sinking into self-pity for all to see. It has helped me do #2.

4.

Don't suffer over your suffering.

I discovered this phrase in a rune interpretation book. I read its meaning as an instruction to separate actual pain from additional suffering piled on top – self-pity, anxieties, etc. I see this advice to save my reserve of emotion for things I need to spend emotion on. Adversity, even really serious adversity, is just a set back; suffering over my suffering makes things harder. Focus on the issue at hand helps me sleep better knowing I've done what I can and to recover faster and better. It helps me do # 1 and #2. And yeah, #3.

A corollary is to

not let fear paralyze you

. Note that's not 'don't be afraid'. That's ridiculous. I'm just saying don't let fear immobilize you. I came up with a metaphor for dealing with fear that works for me. I'm in a jousting ring, I see a mean-looking, well-armored knight on a furious horse on the opposite side, and I'm on the ground. What do I do? I feel like curling up in a fetal position against the wall, eyes pressed shut, hoping I don't get skewered. Or I could strap on my armor, pick up my lance, mount my horse, and charge straight at him. What could happen? A few things. If the threat is real, at least I'm meeting him halfway, wound up and armed, at full speed. I could be injured, but I could also inflict injury; in any case, I can have some self-respect for having attempted to surmount the threat and better my chances of living to try another day. I might also charge toward the threat and discover that it's a charming poodle riding a pony – not fearsome at all. Then again, I could approach this threatening, charging knight only to watch him evaporate as an illusion, in which case I just made a run for the middle in full glory, practiced to get up and charge another time. Eventually I get better at recognizing, assessing and handling real threats.

"Courage is resistance to fear, mastery of fear - not absence of fear."

Mark Twain

5. Here's a common proverb: make hay when the sun shines. So what do you do when the 'sun' isn't 'shining'? You

get ready to make hay

. You can't recognize and take advantage of an opportunity unless you're ready for it. Get ready for the sun to shine by recognizing and sharpening your skills and staying cool. Even fallow fields are getting ready for the next crop.

A corollary is

when you can't do what you want to do, do what you can do

. I apply this rule in life, at work and while playing video games. It helps you learn and get ahead faster.

Several times when I've been set back I came back stronger than before. In my 20s I was returning from a Sunday evening at a friend's parent's home. On that night I plowed into five horses standing in the road; one flew up over the hood and crashed into the windshield. My car was totaled, the horse was shot, and my lawyer advised me badly during the negligence trial. I was a radio DJ at the time and I needed an easy second income, so I got a job at the best record store in town. In 1½ somewhat grueling years I knew the music biz from the broadcast side and the retail side. I later landed a prime radio show but that wasn't enough. I wrote and produced a short film with a bunch of friends and $40. Leveraging my social network I moved to my next career in film production. Sounds easy now, but I clawed my way every inch.

6.

Giving yourself is the greatest generosity.

Your time, your talents, and your compassion, willingly and gladly given, are your most valuable assets. Think of 'random acts of kindness' and the simple gift of listening to someone's fears and aspirations. Think of just being a companion to a child, a senior, a troubled friend, or an animal. Sure, money counts, too. For that I refer to

tzedakah

.
Powered by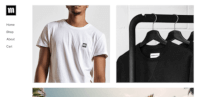 Create your own unique website with customizable templates.