About me
Reflecting + producing culture
Born and raised around Kansas City, I've since ricocheted between US coasts. I now live in/near my 11th American city, and have returned to a state only once (California). Result: practice making new friends, lots of personal reinvention, and adapting to new environments and cultures.
​
Music and Media
✰
At age 15 I won a Youth Symphony competition from a field of 26 to conduct
Mozart's 40th Symphony
in concert. I began by getting the first violinist to watch me. I also memorized the first movement.
✰
Lettered in vocal music my high school sophomore year (of only six that year).
✰
Won the Best Feature Writer award from The Teen Indianapolis Star.
✰
​
Turned my time on college radio into a winning rock broadcast radio career.
Early on, I vowed to never say or do anything on the air that I would feel uncomfortable about at home. Like Chris Rock says about his career, I was me, only larger.
​ When I signed off the air the last time
my show was the highest rated
in its daypart among all Nashville radio stations. Men choked as they called to say goodbye.
Aww....!
✰
I wrote, produced, and directed an eight minute mocumentary, "Obsessive Self-Expressionism" , about our desperate urges to apply extreme effort and imagination to break out of socio-cultural norms. I spent $40 and enlisted a handful of friends and their resources such a television camera and an editing suite. I had no idea what I was doing other than tapping years of watching films and television and endless academic shorts about primates in college. I knew one professional film/video production company; they agreed to look at it.
​
✰
​So then f
rom radio I busted out to work in film/video production. I did casting, location-scouting, talent-wrangling, practical special effects, and production liaising. Music videos, television shows, industrial films, and advertising.
​
✰
​
Won Carl Kassel's voice on my voice mail on
Wait, Wait Don't Tell Me
.
​
Daring-do
I earned PADI scuba certification to experience breathing underwater and zero gravity, and to explore another world. I was the sole female in the class to finish.
I survived an Outward Bound course in SE Utah canyon wilderness. For recounting that
adventure
and its direct influence on my Xbox career I won a stand-up storytelling
competition
. The story was also performed at Fireside Storytelling August 2016.
Read it on
Medium
.
DNA
A mid-19th Century relative was a soprano in a Berlin opera company. It is tantalizing to imagine that this woman performed
Queen of the Night
.
Not operatically trained myself
, I nevertheless delight in the company of performers, designers, and artists.
A closer relative was a U.S. air reconnaissance photographer over France during World War I. From 1917-1919 he gathered data utilizing two emerging technologies: 1) flight, and 2) cameras and film development. When off-duty on the ground he photographed French villages and their occupants. Photography skills were passed through the generations. I took most of the banner photos on this site. I gravitate toward
scale invariance, forced perspective
images.
Sum up
Me, I enjoy days spent in flow in places like vast desert and mountain landscapes, and getting "lost" rock-scrambling therein. I love a parade and other public events that re-create + re-invent culture, and to absorb the visceral energy of human masses. My sense of humor is dark, my tea and eyes are green. I'm a sucker for authentic pho, three-masted ships, forest bathing, a tough jigsaw puzzle, and a good story well told.

"Susan crawls all over the house and pulls herself up quite frequently. She is a big girl already. Mentally the doctor said that she was a more exceptional child than her sister - well - only time will tell."
from a letter written by my mother to her aunt. I was 8.5 months old.
---
​By the numbers
The Princeton Review Career Quiz
solid Blue
People with blue Interests like job responsibilities and occupations that involve creative, humanistic, thoughtful, and quiet types of activities. Blue Interests include abstracting, theorizing, designing, writing, reflecting, and originating, which often lead to work in editing, teaching, composing, inventing, mediating, and writing.
Holland Code
AIS [
A
rtistic,
I
nvestigative,
S
ocial}
Reading the Mind in the Eyes test​
34/36 score
Cisco NextGen Communicator Assessment
Conceptual, Inductive, Introverted, Non-Linear Storyteller
"You think in terms of big-picture ideas and possibilities, using inspiring narratives to link ideas and connect with your listeners. When formulating or presenting conclusions, you start with the facts that led you to your conclusions, not with the conclusions themselves. You value open-ended, free-floating discussions and are comfortable with unpredictable outcomes. Although you may have learned to work successfully with others, you believe you do your best thinking by yourself."
Powered by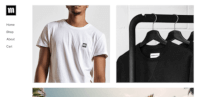 Create your own unique website with customizable templates.